Lyona Ivanova: "La vida es dura y luego te mueres"
Por: Cecilia Camacho |
3 de mar. de 2015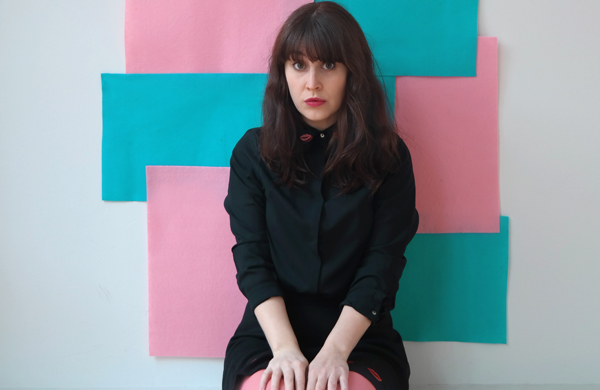 Lyona Ivanova, Marta para los amigos, es realizadora de videoclips. Estudió cine en la ESCAC, y desde entonces ha hecho un poco de todo, videoclips, spots, diseño gráfico, diseño de ropa, ilustración… Ha dirigido trabajos para Love of Lesbian, Lori Meyers, Amaral, Mürfila, Sidonie, Los seis días, Maria Coma, Pau Vallvé, Kakkmadafakka, Anna Roig, Inspira…
Por si esto fuera poc, Lyona es la ilustradora del best seller infantil Yo mataré monstruos por ti, en tándem con Santi Balmes (autor del libro y cantante de Love of Lesbian) y de Mis primero, primeros besos, 25 historias que te harán sonreír. En más de una pensarás que eres tú la protagonista…
Pregunta: Autodefinición.
Respuesta: Tímida, soñadora y un poco workaholic.
P: ¿De dónde viene el nombre de Lyona?
R: De una historia de amor. Conocí a un chico en Sicilia, nos enamoramos, pero ambos teníamos pareja en ese momento, y decidimos que si algún día estábamos solteros, nos encontraríamos a medio camino de nuestras casas, yo de Barcelona él de Roma. El medio camino era Lyon, así que cuando me iba a crear una cuenta en Fotolog, decidí ponerme de nick Lyona, por si algún día él buscaba en internet Lyon, le pudiera aparecer yo. Eso nunca ocurrió y además tengo que decir que nunca he estado en Lyon.
P: ¿Qué querías ser de pequeña?
R: Astronauta.
P: ¿Cómo definirías tu estilo?

R: Sencillo, directo y emocional.
P: ¿Qué es lo más te gusta hacer?

R: Rodar videoclips.
P: ¿Qué hay detrás de Lyona? ¿Cuál es tu valor diferencial?
R: Detrás de Lyona supongo que hay emociones. En mis trabajos siempre acabo poniendo un pedazo de mí.
P: Principales influencias artísticas.
R: Wim Wenders, David Bowie, Michael Winterbottom, Todd Haynes y David Lynch.
P: ¿A quién admiras (vivo o muerto)?
R: Jarvis Cocker.
P: Si tuvieses la certeza de que el mundo se acaba mañana, ¿qué harías?
R: Irme con mis padres a pasar nuestro último día juntos.
P: ¿Cuál es tu lema?
R: La vida es dura y luego te mueres.
P: ¿Cuál es tu rincón favorito de Barcelona?
R: La calle Wellington.
P: ¿Qué restaurante, bar o cafetería recomendarías?
R: El bar Vinil.
P: ¿Qué es para ti la felicidad?
R: Una tarde de domingo en una terraza con mis amigos, sin nada más que hacer que charlar y vivir la vida.
P: Un libro, una peli y una canción.
R: Un libro, Rojo y Negro, de Stendhal, una peli, Eduardo Manostijeras, de Tim Burton, y una canción TV Movie, de Pulp.
P: Un lugar para perderte.
R: Islandia.
P: Proyectos de futuro.
R: Escribir una serie.
P: Un sueño.
R: Dirigir una peli.


Artículos relacionados
Mercadillos de segunda mano en Barcelona.
Cafés en Madrid, una tradición literaria.
Por: Cecilia Camacho
Aunque es de Barcelona, Cecilia vive en Madrid. Colabora con Viajeros Urbanos de El País, El Duende, Le Cool, Yorokobu o Ling redactando artículos relacionados con el ocio y la cultura. Cuando le dejan… es collagista. Y por si fuera poco, también es La chica del flequillo.