Dónde escuchar música en directo en Madrid
Por: Azucena García-Carpintero |
24 de jul. de 2014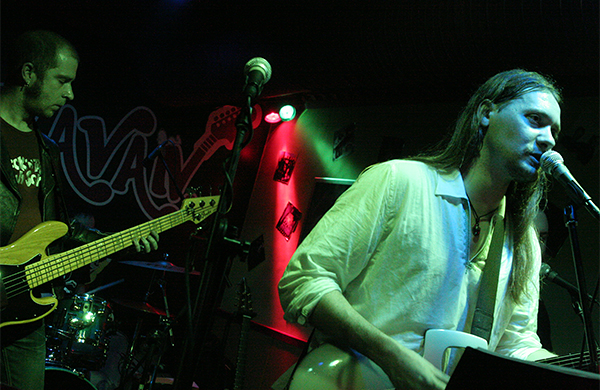 No son pubs al uso. Tampoco son solo salas de conciertos. Son lugares donde tomar una copa con un valor añadido: el guitarreo en vivo para descubrir nuevos sonidos o en un particular homenaje semanal a grupos que ya son clásicos. Si quieres acompañar tu cerveza con buena música en directo en Madrid, toma nota.
RRR CLUB


El RockandRoll Radio es un punto de encuentro de los amantes de Kiss, The Rolling Stones, Deep Purple, Ramones, The Who o Led Zeppelin los fines de semana hasta casi el amanecer (cierra a las 6 de la mañana). Pero además, los viernes por la noche, desde las 22h, hay conciertos en directo, la mayoría de ellos de entrada gratuita o con precios que no suelen superar los 6 €.
¿Los estilos? Siempre vinculados a la línea del local. Entre el rock más puro y los homenajes a los clásicos también tienen cabida grupos de tirada más indie. Ojo, los jueves por la noche hay jam sessions. El micro está abierto para todo aquel que ose subirse al escenario en una sesión conducida por la banda de Adriana Domínguez desde las 00h.
Descubre el listado de temas en la web del RRR (que abarca desde Aerosmith a The Clash, pasando por Eric Clapton o Rosendo), apréndete tu favorito, apúntate y ¡a tocar!
Dirección: c/ Barquillo, 44 (metro Alonso Martínez).
JAMES JOYCE
Un pub cuyo nombre es un homenaje a uno de los autores más importantes de la cultura del país del trébol solo podía ser irlandés. En el James Joyce puedes encontrar de todo: comida, cervezas de importación, pantallas con fútbol, rugby y fútbol americano… y música en directo muy cerca de Cibeles.
Pásate los viernes y sábados a primera hora de la noche y conoce a grupos como Boys on the Hills, Blue Jeans, Shane o The Pie.
Dirección: c/ Alcalá, 59 (metros Banco de España o Retiro).
Sala Caravan


La Sala Caravan encarna la nostalgia de los maravillosos 80. Entrar en ella es coger un Delorean musical a la movida madrileña, a los inicios del garaje e incluso al pop de la Ambición Rubia o Michael Jackson. Y, además, tiene hasta banda propia.
El local fue el nexo de unión entre cuatro músicos profesionales que componen la Caravan Band, liderada por Quique Muñoz y Ondina Maldonado. Los sábados desde las 2:30h, el grupo inicia un viaje en directo back to the 80's: Loquillo, ACDC, Queen, Nacha Pop, Radio Futura…
Caravan también es escaparate de otros grupos que siguen la tónica del rock y el pop, algunos de ellos con cortes más indies o souleros. La entrada a los conciertos de la banda de casa es gratuita, igual que la de la mayoría de los conciertos de otras agrupaciones.
Cuando acaba el directo, el DJ prolonga el viaje ochentero hasta las 6 de la mañana, en sesiones que también dejan hueco a contemporáneos como Lori Meyers, Love of Lesbian, The Black Keys o MGMT.
Dirección: c/ General Martínez Campos, 17 (metro Iglesia).
El Barco
El Barco se presenta a sí mismo como el lugar "donde vive la música". Si es así, la música vive en el corazón de Malasaña, en dos plantas con sus respectivos dos escenarios, uno para actuaciones más íntimas y otro para sesiones a mayor escala. Una acústica cuidada y una programación para (casi) todos los gustos, con jazz, soul, funky, blues, indie, pop, rock e incluso flamenco son su sello de identidad.
Cuando terminan los músicos, llega el momento de los DJ's. La música sigue en forma de clubbing hasta las 6 de la mañana los viernes y los sábados. Si de repente te pica el gusanillo del directo y te apetece vivir en tu piel lo que se siente al estar sobre el escenario, apúntate a las jam sessions de los domingos.
Lo encontrarás en c/ Barco, 34 (entre los metros de Tribunal y Gran Vía).
Hony Tonk Bar


El Honky Tonk Bar recibe su nombre de los locales que ofrecen música en directo al sur de Estados Unidos. Se trata de un mítico espacio que lleva en pie desde 1987 y que dedica su planta inferior al rock, el pop y el blues en directo todos los días del año. En este cuarto de siglo, artistas como Los Secretos, Ariel Rot, Antonio Vega, M-Clan o Los Elefantes han dejado su huella en el local.
En nuestros días, por su escenario pasan grupos nacionales e internacionales que tocan sus propias canciones o que actúan en tributo a grandes de los 70 y 80 como Deep Purple, Queen, The Beatles o Janis Joplin.
Si por una vez quieres ser tú quien reciba los aplausos, apúntate a las jam sessions de los miércoles desde las 00.30h. Propón tu tema favorito o selecciona uno del listado de la web del Honky Tonk y deja que su banda te acompañe en la experiencia.
Dirección: c/ Covarrubias, 24 (metro Alonso Martínez).