Dim sum en Barcelona: 4 restaurantes donde probarlo
Por: Arantxa Ruano |
28 de may. de 2015
Seguro que a estas alturas de la película, muchos de vosotros ya estáis bastante familiarizados con los dim sum. Sí, son esas pequeñas bolsitas o paquetitos de pasta de arroz rellena que se sirven en cesta de bambú y se cocinan al vapor normalmente. Parece que este plato oriental ha calado muy bien en nuestros estómagos y ha entrado por la puerta grande a Barcelona.
Ya son muchos los restaurantes de nuestra city los que ofrecen dim sum en sus cartas -sean especialistas en cocina oriental o no-. Lo cierto es que es un plato tan versátil, liviano y agradable al paladar que merece la pena probarlo y no dejarlo de lado nunca más.
Mosquito Tapas
Entre los más famosos de la ciudad, están los dim sum de Mosquito Tapas, en el barrio del Born. De verdura, de carne o de gambas, este delicioso bocado chino es el gran reclamo de este restaurante.
C/ Carders, 46.
Dim Sum House
Dim Sum House es un establecimiento de Sant Antoni con poco tiempo en la ciudad condal, puede presumir de tener hasta 11 variedades de este plato, todas al vapor. Lo más original de este lugar -culinariamente hablando- son sus dim sum con forma de conejito, los Hai Xian Tu Bao. Una chulada que se come.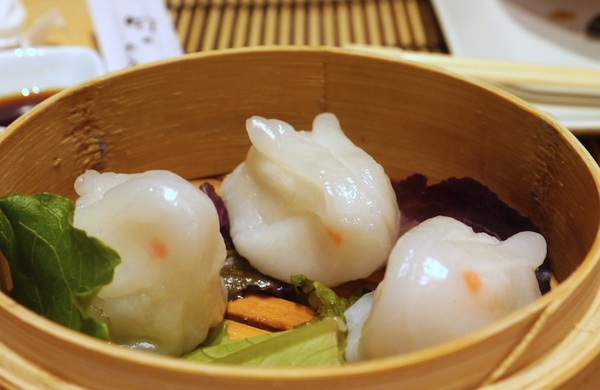 C/ Diputación, 88.
Out of China
Al otro lado de Barcelona, podemos ir a probar los de Out of China. Este restaurante chino, abierto desde 2002, practica una cuidada y sencilla cocina a la vez que elaborada. Algunos lo consideran el mejor restaurante chino de la ciudad y lo cierto es que tienen una amplia y variada carta con sugerentes propuestas gastronómicas. Aquí los dim sum se ofrecen en tres versiones -al vapor, a la plancha y fritos- y sus combinaciones de relleno son de lo más tentadoras: pollo, gambas y salsa de ostra, ternera y calabaza, anguila ahumada, verduras y setas, etc.
C/ Muntaner, 100.
Wok and Bol
En pleno Eixample encontramos Wok and Bol (en la imagen principal). Se trata de un restaurante que, aunque no lo diga su nombre, también tiene una considerable oferta de dim sum. Jiao-tze, Shao-mai, Pao-tze y Wun-tun, a la plancha o al vapor. En este establecimiento recomiendo pedir, y así lo sugieren ellos también, una cesta con un surtido de estas pequeñas delicias.
C/ Diputación, 294.
Artículos relacionados
Dónde comer pizzas originales en Barcelona.
Restaurantes en Barcelona: auténtica comida china.
Por: Curry Curry Que Te Pillo
Fanática del comer, mi principal afición es descubrir restaurantes en busca de nuevas experiencias culinarias. Mi vida gira alrededor de la mesa: cocino para comer, salgo para comer, trabajo para comer, leo para comer mejor y practico deporte para comer más. Mi panza y yo tenemos la suerte de habernos deleitado con más de 400 restaurantes alrededor del mundo, experiencias que he compartido en mi blog gastronómico. (www.currycurryquetepillo.com).